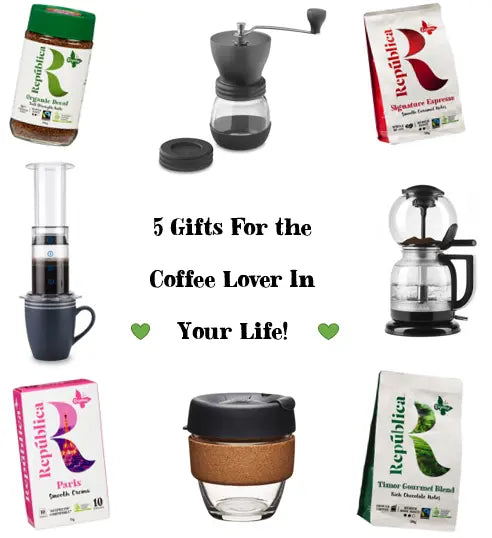 It's hard to buy presents for people who are really, really into a particular thing because you feel like an amateur trying to buy them stuff related to that thing. For instance if they're really into Beanie Babies and you're NOT into Beanie Babies, you'll have no idea which ones are cool. You could end up buying them a really daggy Beanie Baby, simply because you're swimming in unfamiliar waters. 

Well, you don't have to worry if your loved one happens to be a coffee lover because we've got you sorted with our concise list of gifts for the coffee lover in your life. These are definitely 'cool' coffee lover gifts. We checked with several coffee lovers.

Keep Cup - www.keepcup.com.au 

This is the perfect present for your environmentally conscious coffee drinker mates. Make sure you get a glass one - any coffee connoisseur out there will tell you fresh brewed coffee tastes best in glass or ceramic. These ones are made from tempered soda lime glass to keep your coffee toasty and they have a handy heat proof cork ring so you don't burn your hand while you're holding it.

They're also dishwasher safe so they can be quickly cleaned and popped bag in a bag or desk drawer ready for the next use. 

Aeropress - www.aeropress.com.au

These little gadgets are a coffee snobs dream. They're totally portable and can be taken on business trips, holidays and even camping. It's a very quick and very delicious way to have pressed coffee any time. Much better than having a grumpy coffee-less coffee lover on a weekend away! They're also really easy to use. Lots of travel coffee plungers are cumbersome and more often than not you end up wearing your coffee. Aeropresses are almost foolproof - even the clumsiest of coffee fanatics can figure out how to use them.

Portable Hand Grinder - www.alternativebrewing.com.au 

A handy travel coffee press isn't much use without a handy travel coffee grinder! A true coffee lover knows that a good cup of coffee is all in the grind and this little coffee grinder is the perfect companion. You can adjust it depending on if you like a coarse or fine grind. It's perfect for coffee drinkers who absolutely must have their beans freshly ground just minutes before they brew.

Fancy Coffee - www.woolworths.com.au

There's no use having a gorgeous coffee press without some delicious ground coffee to go with it. Have you tried our Republica Timor Ground coffee? It's a gourmet blend of 100% Arabica beans and totally organic and Fairtrade. You can also get it at most major supermarkets. 

Syphon Coffee Brewer - www.yourhomedepot.com.au

This is the most science-y of coffee lover gifts. If you've never had the pleasure of watching a syphon coffee brewer do its magic, it's high time you bought one for your favourite coffee fiend. Watching the brewer suck up the coffee, swirl it around and deliver a perfect cup of coffee is incredibly mesmerising. The coffee they produce is also delicious as an added bonus.
Happy Brewing!