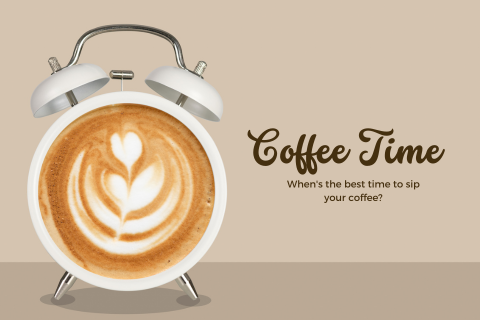 Timing is Everything: When's the Best Time to Sip Your Coffee?
Coffee is one of the most popular beverages in the world, enjoyed by millions of people every day. But have you ever wondered what is the best time of the day to drink coffee? While there is no one-size-fits-all answer to this question, there are a few things you should keep in mind when deciding when to enjoy your favorite cup of joe.
Personal preferences and habits
The first thing to consider is your own personal preferences and habits. If you're someone who needs a jolt of caffeine to kickstart your day, then a cup of coffee in the morning might be the best option for you. On the other hand, if you're someone who likes to savor your coffee and enjoy it slowly, then an afternoon or evening cup might be more to your liking.
The effect of caffeine on your body
Another important factor to consider is the effect that caffeine can have on your body. Caffeine is a stimulant that can increase alertness and energy, but it can also interfere with sleep if consumed too late in the day. For this reason, many people prefer to limit their coffee consumption to the morning or early afternoon hours. If you are worried about the effect of caffeine on your body, check out our decaffeinated coffee HERE.
Timing affects taste and quality
Finally, it's worth noting that the timing of your coffee consumption can also affect its taste and quality. Coffee is best enjoyed when it is freshly brewed and still hot, so if you're someone who likes to take your time with your coffee, you may want to consider brewing a fresh pot each time you want a cup.
Morning or Afternoon?
In summary, there is no one-size-fits-all answer to the question of when to drink coffee. It ultimately comes down to personal preference and lifestyle factors, but generally speaking, the morning or early afternoon is a good time to enjoy a cup of coffee without negatively affecting your sleep. Just remember to brew it fresh and savor it slowly for the best possible experience.