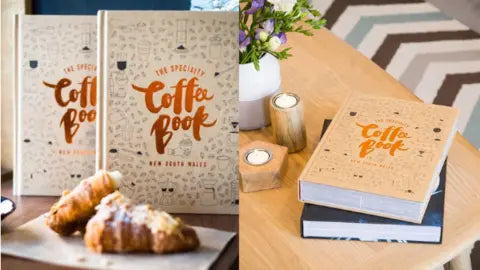 For The Coffee Lovers
If you're counting down the hours till Christmas (in case you're curious... it's 4 days, 12 hours and 14 minutes) and have been caught up with decorating and blasting Michael Buble rather than Christmas shopping, this is the ultimate gift guide for you!
P.S. it's also perfect for those who
just
remembered it's December and need to grab some killer gifts ASAP!
THE SPECIALTY COFFEE BOOK NSW
The Specialty Coffee Book NSW is the perfect choice for your favourite NSW-based coffee aficionados out there! A beautiful coffee table book AND a great read - you can't go wrong! P.S. they have one for those living in VIC too so don't fret!
REPÚBLICA ORGANIC COFFEE PODS 
What's a better gift for coffee lovers than well… aromatic organic coffee that's great for the planet! Treat the coffee-lovers in your life to República Organic Biodegradable Nespresso* Compatible Coffee Pods!
Why are they so special?
✔️ They're BIODEGRADABLE - the break down at the same rate as an orange peel!
✔️ They're AWARD WINNING! 
✔️ They're CERTIFIED ORGANIC
✔️ They're JUST $5 everyday at Coles
We have three different intensities to please even the fussiest coffee drinker:
POTTERY BARN ALPHABET MUG
Make every morning cup of coffee special with these incredibly sleek Alphabet Mugs. Even the fussiest coffee drinkers will love showing this off. Might we add that it's dishwasher safe - SCORE!
KEEPCUP REUSABLE CUP
If you know us well, you'll know that we love (and I mean, LOVE) reusable cups! That's why it's back on our Christmas Gift Guide this year. Be a hero and save the world from more needless plastic 🚫 Join the #resuablerevolution and grab your coffee-addict friend a KeepCup and enjoy coffee the smarter way!
And did we mention that coffee tastes better when you're doing good for the planet?
'TOTE'-ALLY CUTE!
Are we the only ones that get excited when a tote bag says exactly how we feel? Whether you take it to the beach or use it as your grocery bag, these printed tote bags are perfect for your fellow coffee-lover!