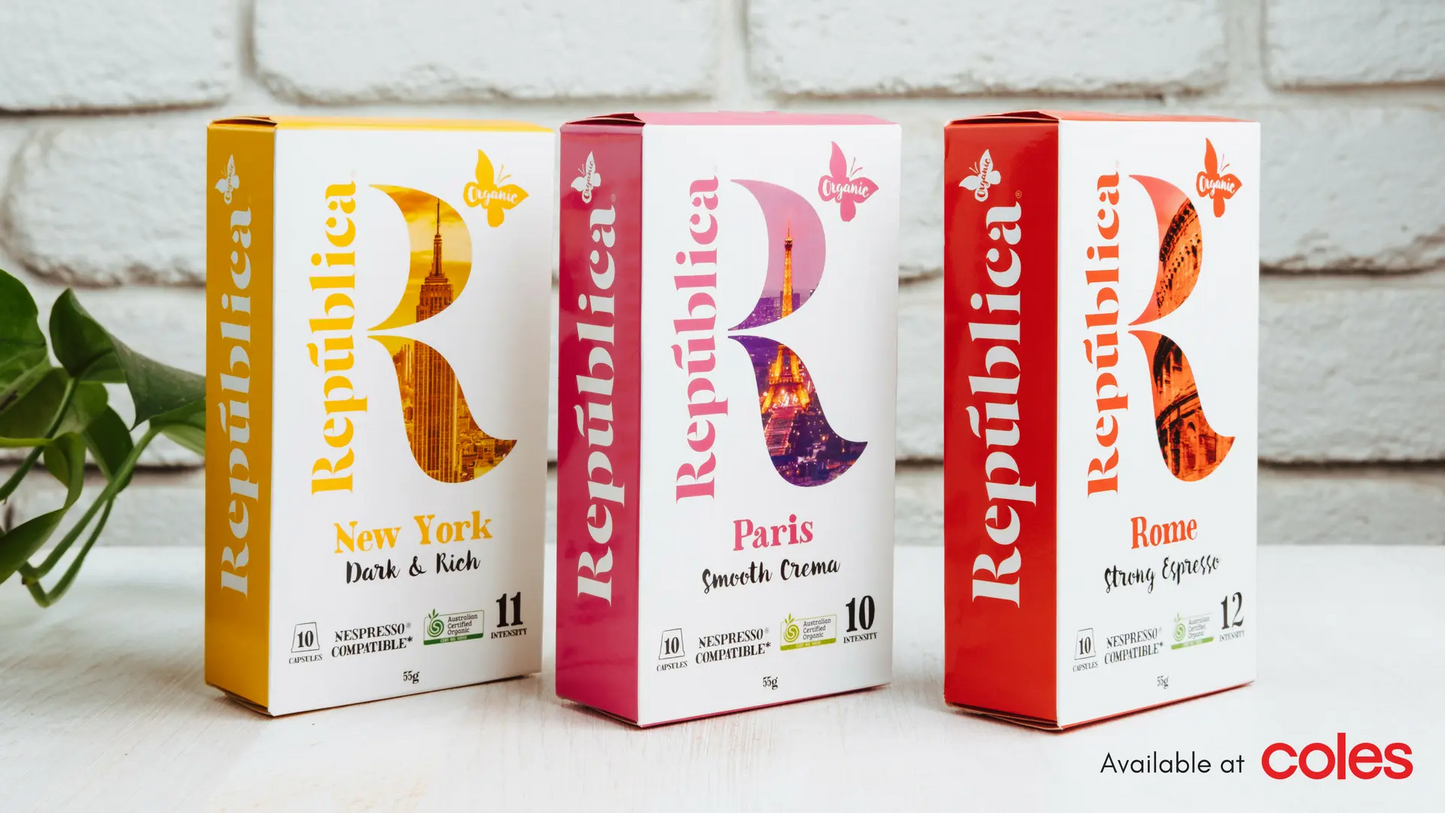 Republica Organic Featured on Channel 7 News
We were beyond excited that our award winning biodegradable Nespresso™ compatible capsules were featured in Channel 7's Today Tonight segment. If you missed us, don't worry! We are like proud parents who frame and record everything. Just click play on the video to learn more about the effects of coffee capsules, how our award winning biodegradable capsule are made and to see our Founder, Jacqueline Arias, explain why us taking action to protect our Australian backyard is SO important.
If you've been following us for a while, you probably know how proud we are to be the ONLY biodegradable coffee pods on supermarket shelves. We've always been vocal about this because it's honestly a game-changer in the coffee capsule industry. Currently, over 55 million pods are going into landfill every single day, and each aluminium or plastic capsule takes up to 500 years to break down. Aluminium and plastic pods actually require a specialised method of recycling, which conventional facilities are unable to do. Furthermore, they require an excessive amount of energy to recycle. Realistically, billions upon billions of capsules simply end up in landfill for five whole centuries (or 1500 generations) whilst releasing harmful methane gas.
Source: 1 Million Women
We decided to extend República's range and enter the coffee pods game, we knew we needed to change it up... Afterall, there must be a way for all of us to enjoy the amazing convenience of making premium coffee in a minute without harming the planet. That's when we found biodegradable plastic! *cue loud cheer* If that wasn't enough of a homerun, all you have to do is pop it into your regular bin when you're done and it'll break down at around the same rate as an orange peel (approximately 730 days*), no recycling needed! Seriously amazing, right?!
If you're keen to make a change, why not pop República Organic Biodegradable Pods into your trolley at Coles or your online cart. Love it or your money back!