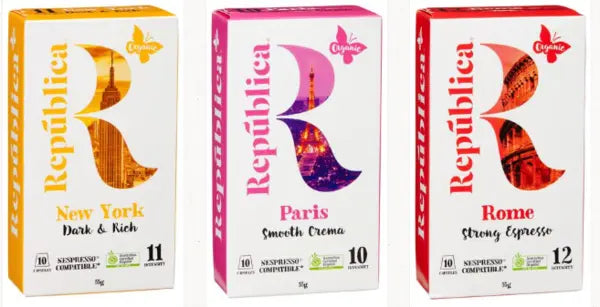 Ever thought about what happens to those convenient little coffee capsules after they disappear into your coffee machine? We have. 
Most coffee capsules on the market have a lifespan of 200-500 years. Your capsules aren't going anywhere for a really, really long time. When you think of how many coffees Australians drink in a day, that's a whole lot of capsules filling up our landfill!
At República, we completely understand your love affair with coffee capsules. They're quick, convenient & best of all, totally mess free! In around 20 seconds, you have a delicious steaming coffee ready to go, giving you the caffeine hit you need. The best part is that you can get our biodegradable coffee pods at Woolworths and Coles. 
That's why we have released our latest range of delicious & guilt free coffee capsules! By using República's organic & biodegradable coffee capsules you can enjoy your coffee even more, knowing that our biodegradable capsules will decompose in a similar amount of time to an orange peel! That's 2 years, not 500 like other capsules on the supermarket shelves! After you've enjoyed the authentic espresso experience of our coffee capsules, simply remove the foil top, discard the coffee & place the capsules in your general waste to kickstart the decomposing process.
You can find our range in Coles. Do yourself & Mother Nature a favour, pick up a box of República coffee capsules next time you're out shopping for coffee!