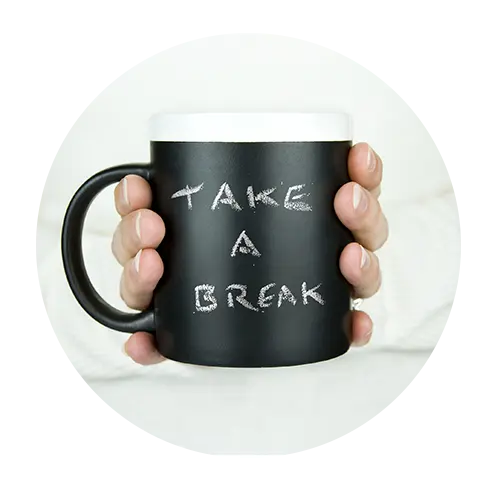 With success comes work, but with work can often come stress. If you're looking for some ways to relax, you're in the right place. Whether you're suffocating under a never-ending workload, or just in need of a quick winter escape, our five ways to take a break will help you rest and reflect! 
Meditate and stretch:
Great musicians, athletes and even CEOs do this! Taking 15 minutes out of your day to release tension and stress with some inner reflection and a stretch can drastically improve your mood and productivity.
Try an adult colouring book:
We all liked colouring books once, right? We think it's about time we go back to our childhood and get out the colouring pencils. Pull out a great adult colouring book, kick back and relax with an activity that is by no means a waste of your time. Colouring has been linked to stimulating creativity and is a great way to lose yourself in something for pure leisure. The only difference between colouring in as an adult versus when we were children is that now we get to colour and drink coffee!
Go for a walk:
Walks aren't just beneficial for your beloved family pets. Taking time to go on a walk after lunch can help with digestion and encourage a contagious happiness brought to you by the endorphins you create from being active.
Start a Pinterest board:
Our worlds are continuously colliding, with work and life constantly drawing us back online and allowing us to often lose sight of our dreams and ambitions. Why not take vision boards digital, by creating a Pinterest board? Don't let the stigma of vision boards being 'frivolous' put you off - they help you visualise where you are and where you want to be. Not your thing? We also love to create organic recipe boards to satisfy our inner foodie.
Read an article:
If you got this far, then you're most likely already taking a break and you should embrace it! Taking time to stay informed, to indulge in a passion or to share a story should not be seen as a waste of time. It allows us to rest, to reflect and to grow. If nothing else, it is the perfect time to enjoy a cup of coffee. So hit up your favourite website or blog and get reading!