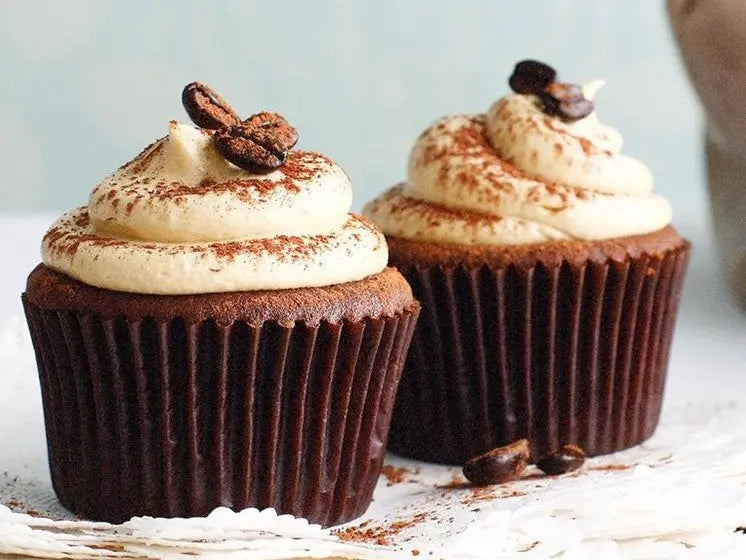 MAKES 12
INGREDIENTS
Mocha Cupcakes
- 1 espresso shot of your fave República Organic Biodegradable Pod
- 125g butter, softened
- ¾ cup caster sugar
- 2 eggs
- 1 tbsp República Organic Drinking Chocolate or regular cocoa powder, sifted
- 1 cup self-raising flour, sifted
- ⅔ cup almond meal
- 125g dark chocolate, melted
- ¾ cup buttermilk
Coffee Buttercream
- ½ espresso shot of your fave República Organic Biodegradable Pod
- 185g unsalted butter, softened
- 2¼ cup icing sugar, sifted
RECIPE
1. Preheat oven to 180°C (160°C fan-forced). Line a 12-hole capacity muffin pan with paper cases.
2. Beat butter and sugar in a medium bowl with an electric mixer until light and fluffy. Add eggs, one at a time, beating until just combined.
3. Combine half of the sifted cocoa and flour. Fold into the butter mixture. 
4. Fold in all the almond meal and then the chocolate. Fold in the buttermilk, remaining flour mixture and finally the espresso shot.
5. Divide mixture among paper cases. Bake for about 20 minutes or until cooked when tested with a skewer, cool cakes on a wire rack.
6. To make coffee buttercream, beat butter in a medium bowl with an electric mixer until as pale as possible. Gradually beat in half the icing sugar, espresso ½ shot, then the remaining icing sugar.
7. Using a piping bag fitted with a small plain nozzle, decorate cakes with coffee buttercream. Top each cake with coffee beans, if desired.
Recipe Reference:
Australian Women's Weekly Food. 2020. Mocha Cupcakes With Coffee Buttercream. [online] Available at: <https://www.womensweeklyfood.com.au/recipes/mocha-cupcakes-23910> [Accessed 21 April 2020].