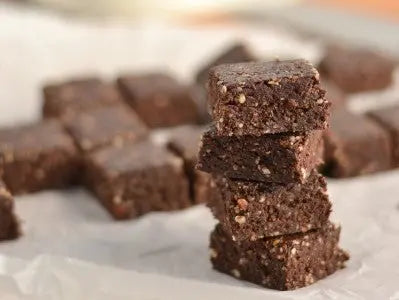 MAKES 12
INGREDIENTS
- ¾ cup raw walnuts
- ½ cup raw almonds
- 1 ¼ cups pitted Medjool pitted dates, packed
- ½ cup República Organic Drinking Chocolate, or cocoa 
- 1 tbsp República Organic South American Instant Coffee
- 1 tsp pure vanilla extract
- Pinch of sea salt
RECIPE
1. Prepare a loaf pan by lining it with baking paper.
2. In a food processor process the walnuts and almonds until no large pieces remain. Place the nut meal in a bowl.
3. Place the pitted dates in the food processor and process until no large pieces remain.
4. Add the nut meal back to the food processor along with the cocoa powder, instant coffee, vanilla and sea salt. Process until all ingredients are evenly mixed.
5. Pour the mixture into loaf pan and press down firmly.
6. Refrigerate for 30 minutes before slicing. Store in an airtight container.
Recipe and Image Reference:
Food Doodles. 2013. Raw Vegan Espresso Brownies. [online] Available at: <https://fooddoodles.com/raw-vegan-espresso-brownies/> [Accessed 10 September 2020].