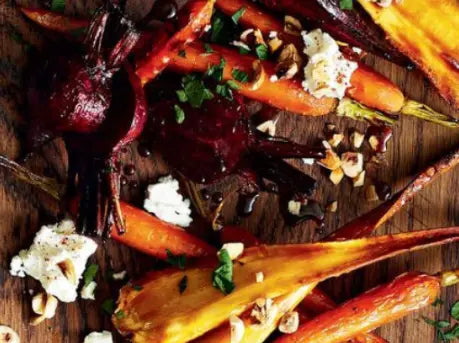 SERVES 6
INGREDIENTS
- 40mL espresso shot of your fave República Organic Biodegradable Pod
- ⅓ cup of maple syrup
- ⅓ cup of bourbon 
- 1 tbsp of butter
- 2 bunches of heirloom carrots (washed)
- 4 red beets (scrubbed and quartered)
- 4 parsnips or turnips (peeled and cut into thick slices)
- 2 tbsp of olive oil
- ¼ cup of roughly chopped hazelnuts
- 50g of goat's cheese (crumbled)
- Salt and pepper
RECIPE
1. Preheat oven to 220°C and line two baking trays with baking paper.
2. Bring the coffee, maple syrup and bourbon to a boil in a saucepan. Let it simmer for about 10-15 minutes or until it's a perfectly thick sauce consistency. 
3. Then add butter, salt and pepper and set aside. 
4. Coat the vegetables with oil, salt and pepper in a large bowl.
5. Arrange vegetables evenly onto the two baking trays and bake for 30-40 minutes or until it's lovely and brown.  Don't forget to turn the veggies a few times to avoid burning.
6. Drizzle the sauce over the vegetables and serve when hot. Top with hazelnuts and goat's cheese if you want to be fancy!