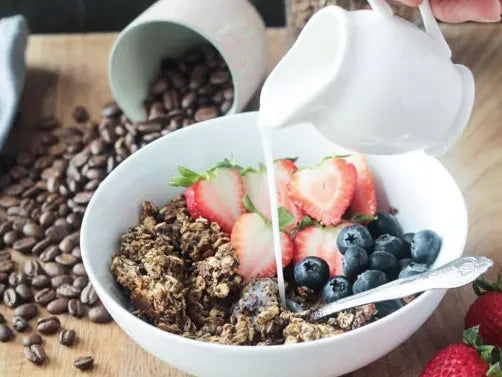 SERVES 6
INGREDIENTS
- 3 ½ cups of rolled oats
- ¼ cups of chopped raw pecans (or your favourite nut)
- ¼ cup of flaxmeal
- ¼ cup of chopped and pitted Medjool dates
- ¼ cup of your favourite República Organic ground coffee
- ½ cup of almond butter
- ½ cup of maple syrup
- 1 tbsp of pure vanilla extract
- ½ tsp of sea salt
- 2 tbsp of water
RECIPE
1. Preheat oven to 160°C.
2. Combine oats, pecans, flaxmeal, dates and ground coffee in a large mixing bowl. 
3. Heat almond butter, maple syrup, vanilla extract, salt and water in a pot and whisk until smooth. Add more water if you need - the mixture has to be pourable.
4. Pour this almond butter mixture over the oats mixture. Stir until well-combined.
5. Spread the mixture evenly on a baking sheet and leave some bits as clumps so that you can get those delicious crunchy clusters.
6. Bake for 25-30 minutes and don't forget to shake the pan and flip the mixture about halfway through to avoid burning.
7. Let cool before serving with fresh fruits and milk or yoghurt.
8. Store the rest in an airtight container, ready for breakfast the next morning!