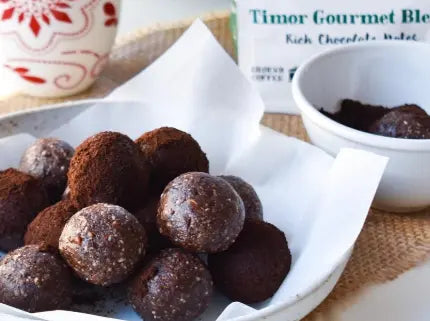 SERVES 4
INGREDIENTS
- 1/2 cup almonds
- 1/2 cup cashews
- 1 cup dried dates
- 1 tbsp cacao powder
- 1 tbsp República Organic Timor Ground Coffee 
- 2 tbsp maple syrup
- 1/2 tsp vanilla extract
RECIPE
1. Combine nuts and dates in the food processor and blend, blend, blend away! 
2. Add the rest of the ingredients and process until everything is evenly combined.
3. Roll 'em into balls (If you want an extra coffee kick, roll in Timor Ground Coffee while still moist) and pop into the fridge to harden.